Insight Center
Endüstri 4.0 Olgunluk Endeksi
Şirketlerin Dijital Dönüşümünü Yönetmek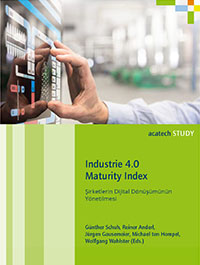 Dijital teknolojiler, üretim sürecinde ve iş modelinde kaçınılmaz temel değişimler gerektiren ürün kullanım süresinde radikal değişiklikler yapıyor.
Şirketler sektörün ve piyasanın dönüşüm sürecinde nasıl rekabetçi kalıyor?
Dijitalleşmeden kazanç sağlamanın ve işin kapsamlı bir şekilde dönüştürülmesinin, yapılan yatırımlardan en fazla kâr elde etmenin yolu nedir?
Bu soruların cevaplarını bulmak için sizi ünlü Endüstri 4.0 programının yazarları
German Academy of Engineering Sciences (acatech) tarafından yürütülen "Ürünün olgunluğu endeksi" adlı özel çalışmaya göz atmaya davet ediyoruz; çalışmaya katkıda bulunanlar arasında dijital üretim kontrolü ve Ar-Ge otomasyonu alanından uzmanlar ve PTC yer alıyor.
Endeks değerlendirmesi modeli, kurumun sayısallaştırma için ne kadar hazır olduğunu ve 4.0'ın endüstri standartlarına ulaşmak için ne gerekeceğini belirlemenize yardımcı olur.
İçeriğe Erişmek için Formu Doldurun
Contact Us – Industrie 4.0
Industrie 4.0 is transforming manufacturing and enabling businesses to improve operational efficiency and reduce costs.
Interested in speaking with an Industrie 4.0 expert about optimizing your production operations? Manufacturing solutions from PTC can help you achieve real-time, unified visibility into factory operations, to reduce downtime and improve quality, productivity, and flexibility.
To learn more about the ways that PTC can help your organization, complete the form and a PTC expert will contact you shortly.
Sınırsız Erişime Sahip Olmanın Tam Zamanı
HBR Türkiye içeriğine bir yıl boyunca tüm platformlardan erişin!
HEMEN ABONE OL
Tüm Arşive Gözatın